MeetUp - Beer, Wine, Chips and Cheese - The Tasty Linked Data Experience
Solving complex problems within supply chains with experts from different domains asks for smart collaboration to break down organizational and technical silo's. Linked Data is a vital element to build up such smart collaboration networks and solve interoperability challenges, which helps breaking down those silo's. This meetup will give the audience some clear and insightful examples from the food, drink and health industry.
The Dutch Linked Beer Collaboration Network
It's not that difficult. Just have a beer or a glass of wine combined with food and it becomes really easy to build meaningful connections between people with the same interest.

That was the starting point of the Linked Beer working group within the activities of Platform Linked Data Netherlands (PLDN). Think of brewery and beer data, beer styles, ingredients and recipes, beer supply chain activities, quality aspects, tracking and traceability in the supply chain, beer preferences of consumers combined with discovering new beers that match those preferences, local availability of beers and local activities related to e.g. beer tastings and tours in breweries. In doing so building a smart collaboration network around craft breweries and beer data in the Netherlands using Linked Data as the sound and flexible backbone to build meaningful connections in that network and smart personalized services for consumers, where all the data is registered ones and re-used many times in the supply chain without making unnecessary copies of that data.

Given this overall vision, the Linked Beer working group has started working on the first steps realizing this vision. During the presentation we will present the progress and results of the working group so far (and we will serve our own Linked Beer during this meetup).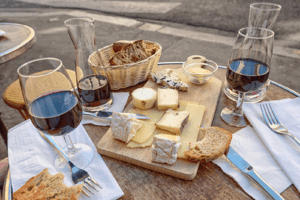 The PoolParty Recommender System for Cheese Wine Pairings
"The legend tells that cheese wine pairings were invented to cover up bad or broken wine, but only recently a study published in the '2016 Journal of Food Science' claims that the palate becomes more sensitive after having some cheese."
With PoolParty our semantic middleware suite we create a knowledge graph that understands real-world entities and their relationships – in this case cheese and wine. Of course it's not restricted to the food industry but being applied all over the globe. Once you represent your domain of expertise in a knowledge graph you can start to connect it to other data sources and create a learning system that helps you finding the exact information you're looking for, or in decision-making for example which wine fits to which cheese.
With our experiment we strive to deploy a knowledge graph, enriched by linked data sources that powers a neat little wine cheese pairings recommender. Hand-crafted SPARQL queries will be dispatched to fetch you the proper partner. The matching is designed to be fuzzy enough to accommodate personal preferences and the genius loci. The Netherlands are Austria's #5 wine export market so it was quite evident to come up with Dutch cheese as an enhancer for your wine experience. Sharpen your palate with Gouda etc. and explore Austrian Grüner Veltliner, Blaufränkisch etc.
About PoolParty Semantic Suite:
PoolParty (https://www.poolparty.biz/) is a world-class semantic technology suite that offers sharply focused solutions to your knowledge organization and content business. As a semantic middleware, PoolParty enriches your information with valuable metadata and links your business and content assets automatically.
Come on and give it a try. Our recommender is a learning system so your feedback is welcome!
Costs: free, registration needed (people registered to the conference: registration is not mandatory)
Moderation: Alwin Sixma BDVC/PLDN/TNO
19:00

Registration & networking

19:30

Welcome : Alwin Sixma (BDVC/PLDN/TNO)

19:45

Beer, Wine, Chips and Cheese - The Tasty Linked Data Experience (15')
- Jack Verhoosel (TNO) - Smart Food for Better Health Networks
- Thomas N. Burg, Andreas Blumauer (SWC) - Linking Austrian Wine to Dutch Cheese
- Dimitri van Hees (APIWise/Brouwtoren) - The Dutch Linked Beer Collaboration Network

20:30 – 21:30

Networking with Linked Beer, wine and cheese
This meetup brought to you by: Platform Linked Data Netherlands (PLDN), TNO, PoolParty, and SEMANTiCS 2017
Locatie : Theater de Meervaart, Meer en Vaart 300, 1068 LE Amsterdam